Sabu is a daredevil, reckless, careless, suicidal, homicidal, genocidal high-flyer/hardcore brawler who put his body on the line night after night for the sake of giving multitude of "holy shit" moments to the fans. But unfortunately for us all, Sabu is also another great wrestler who was buried by WWE.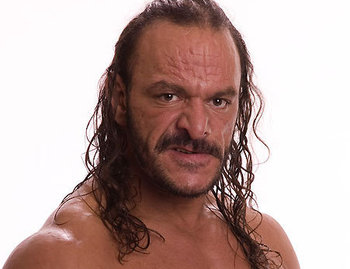 His reckless, brutal wrestling style led him to an astounding catalog of injuries. Including broken ribs, a broken jaw, broke both hands, breaking his neck twice, several deep barbed-wire laceration scars (particularly on his stomach), blood infection, hundreds of stitches, and a forehead full of scars.  And more impressively is the fact that Sabu keep on wrestling despite all those injuries.
After a botched triple moonsault, Sabu broke his jaw against a table but taped it shut and finished the match. After he broke his neck, he kept wrestle with a neck brace. At Born To Be Wired, his classic hardcore "Barbed wire" match vs Terry Funk, early in the match, Sabu suffered a gruesome bloody laceration to his arm, he taped the wound with duct tape and continued the match. Then he got 150 stitches in the locker room to close the wound. Sabu is a real, one of a kind warrior.
He was paid $1,000 by show in ECW and $6,000 by show in Japan.
Sabu Tribute – 3:32

Tribute to the most suicidal genocidal homicidal death defying of them all! I hope you will enjoy it!
Sabu extreme tribute – 5:30
Best Of Sabu With Song Riot – 2:12
Best Highlights Of Sabus Career Of ECW
greatest tribute to SABU – 4:51
Sabu Hardcore Tribute – 5:02




ECW's Sabu Injury

You might also like:
ECW Extreme Championship Wrestling tribute
STRENGTH FIGHTER: WWE Most Extreme Moments In History Of …
STRENGTH FIGHTER: BJW Blood & Death History Highlight Video
STRENGTH FIGHTER: CZW John Zandig
CZW John Zandig was hung by skin from meat hooks – strength fighter
STRENGTH FIGHTER: CZW Ultraviolence
CZW: Nick "Sick" Mondo vs Ian Rotten light tubes … – strength fighter
STRENGTH FIGHTER: Sick Nick Mondo tribute
STRENGTH FIGHTER: ROH Blood Shower
STRENGTH FIGHTER: Sick Nick Mondo vs John Zandig