That's what happens when an Olympic judo medalist try to box against a boxing world champion!!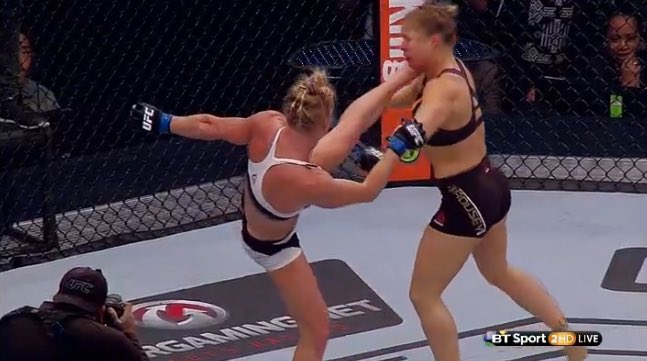 Ronda Rousey was dismenteled!!!







Holly Holm scored the biggest upset in UFC history by defeating the seemingly invincible Ronda Rousey!!!




This one will remain in the history book: Holly Holm easily knocked out defending bantamweight champion Ronda Rousey in the main event of UFC 193 on November 14, 2015.



Or maybe the overconfident Ronda Rousey defeated herself by trying to knock out one of the greatest women boxing champion of all time?!?
Ronda Rousey gassed out chasing Holly Holm for the entire 5 minutes of the first round.
Anyway, Holly Holm was excellent and dominating it all the way.
Holly Holm countered everything and kicked Ronda Rousey's head off with a left high kick to her throat.


Even if she was overconfident and stupid on this one. Trying to outslug a boxing world champion?!? WTF did you try???


I'm sad that my Ronda Rousey was defeated. 
I would have prefer to see my hero Ronda Rousey squashes Holly Holm as she did with her usually hapless opponents. 








At least it was a real defeat. Not a silly decision or a premature referee stoppage.